Problem:
vSphere 6.7 U3 üzerinde çalışan sanal makineyi aynı cluster içerisinde ya da farklı cluster lardaki ESXi sunuculara sanal makine çalışırken vMotion ile taşımak istiyorsunuz ama aşağıdaki hatayı alıyorsunuz.
Virtual machine is configured to use a device that prevents the operation: Device 'HD audio ' has a backing type that is not supported. "This is a general limitation of the virtual machine's compatibility with the ESXi version of the selected host."
Aynı zamanda DRS açık bir cluster da ESXi sunucuyu maintenance moda almaya çalıştığınızda da bu sorun ile karşılaşabilirsiniz. Çünkü host üzerindeki sanal makineleri otomatik olarak diğer host 'lar üzerine aktaramayacağından maintenace moda geçemeyecektir ve uzun süre bekledikten sonra task hata verecektir.
Neden:
Sanal sunucuda kullanılan aygıtın, sanal makinenin donanım sürümünün 15 olarak güncellenmesinden sonra  ESXi host tarafından artık desteklenmemesi
Çözüm:
Hata veren sanal aygıtı kaldırmamız gerekiyor. Ancak bunu vSphere Client (HTML) ile yapamıyoruz, çünkü sanal makinenin ayarlarında bu aygıtı göremiyoruz. Dolayısıyla vSphere Web Client (Flex) 'a bağlanıp, bu işlemi gerçekleştiriyoruz.
vSphere Web Client (Flex) yani Flash tabanlı olana bağlanın
Sanal makineyi kapatın
Kapalı olan sanal makine üzerinde sağ click "Edit Settings" tıklayın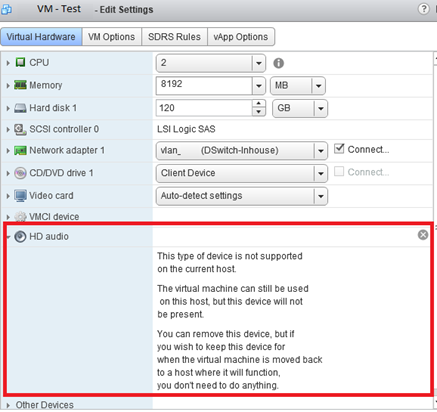 "HD audio" isimli aygıtı kaldırın ve OK butonuna basın
Sanal makineyi tekrar açın
Sorunun çözüldüğünü göreceksiniz.
Kullanılan Versiyonlar:
Sanal makine donanım versiyonu: 15
Vmware Tools: 10346
Hypervisor: vSphere ESXi 6.7 U3